Professional Healer Development & Speaking with Denise LaBarre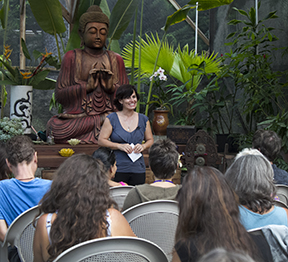 Denise speaks to multiple levels of understanding – all of it practical. From a keynote lecture for a specialized group of professionals to a short talk for the general public, there's something here for you. Denise has extensive experience treating issues like fibromyalgia, family dysfunction, seasonal depression, food issues, and various forms of abuse. She has words that will catalyze greater wellness! Professional Healer Development & Networking events will recharge your professional mojo. Learn new techniques + exchange ideas and information with like-minded people. Denise's exuberant, hands-on approach will add play and physical awareness to your business event.Contact her to speak to your group about stress management, wellness, mind-body topics, business performance solutions, body intelligence, etc.
Something completely different for your business group!
Everyone has some kind of  "issues in their tissues." Do you know how to manage yours? What about your clients, patients, employees or colleagues? Denise can custom-tailor lectures and talks for your work environment or professional group. For business or enrichment events, Denise can balance out the roster with unusual topics.  She can also custom-tailored topics for a business conference line-up or wellness event. Topics include:
Wellness Tips for High-Stress Work Environments.
Body Intelligence and How to Cultivate It.
How to Hold Space for Emotional Release.
Understanding How Emotions Become Disease.
If you and your colleagues spend most of your time in your head, you need this information. Physical and emotional well-being depend on balance. And if you typically end the day feeling physically and mentally drained, you probably are. Denise teaches simple breathing "hacks" that will dissipate stress + improve your workday, health, and overall performance. This approach diffuses accumulated stress thereby reducing and preventing chronic disease patterns.
Doctor recommended:
This information is elementary – and yet we need to hear it, again and again.          ~ Joel Friedman, M.D, Kula, Hawaii
Testimonial from a nurse:
After my session I feel like I've never felt before…ALL GOOD! I think I had an out of body experience. Or else I've simply dropped off soooo much of my load of grief that the world feels completely new. I feel like a new woman!
I feel Peace and Happiness and Harmony and Lightness and RELIEF.  Working with you is the best thing I've ever done.  I want to thank you for your guidance and care and insights and kindness.  You have helped me feel so much happier. This is an exciting time for me. I am grateful for your  leadership and guidance. I can't WAIT to see you again!!!  TY TY TY TY THANK YOU, DENISE!!!             ~ J. Welle, BSN Minnesota
You might also like: Workshops for Healing Pros
Contact us to engage Denise for your professional or healing event.