Professional Development Workshops for Healing Pros
Recharge your professional batteries!
Learn the subtle skills you need now, that weren't offered in your original training!
Healing Catalyst Professional Workshops, lead by Maui Healer, Denise LaBarre can take your healing work to the next level! They offer collegial support and networking opportunities. Additionally,  tools and skills are offered to enrich your healing practice. We all have something to learn and something to give. Denise's workshops encourage a high-level of exchange in a safe, accepting environment. Some of what you will gain, you may not even know that you need but once you have it, your work will soar.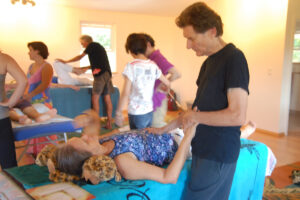 For healing pros and people who want to expand their understanding of how intuition, body, emotion, and the psyche interrelate. These skills benefit stress management, employee performance, and overall well-being. Workshops take place in Maui, Hawaii, or you can bring Denise to your location. Wherever you gather your group, Denise offers skills and understanding they need to notch-up their healing practices and professional work.
Benefits of Healing Catalyst Workshops
Professional networking – Meet colleagues and make friends for ongoing personal and professional support.
Get out of your rut! – Learn new skills and tools + become empowered to use them.
Professional development for all kinds of healing professionals – traditional and non-traditional.
Experience-based learning and healing interaction.
Custom-designed seminars on specific topics tailored to your group.
Learn how to hold space for difficult emotional and/or physical release.

For Talk therapists

– Add body intelligence and body-centered intuition to your mind-centered practice.  Learns skills to become comfortable using touch, within the boundaries of your licensing. "Flesh out" your approach to the psyche. 😉

For Body-centered pros

– Add emotional awareness and tools to your practice. Therefore, becoming fluent in the body's language as it speaks through your body, which will then help you with your clients. Learn to help clients and patients hear their own body's messages. For instance, when pain signals some deeper issue.

For all Healing Professionals

– Integrate your body-emotional awareness into a fluid, holistic approach. After all, these are naturally integrated in each of us. Denise can custom tailor a workshop with the information you and your group especially want.
This is for people who want to empower themselves to use their intuition, feel within, and make healing changes. This benefits anyone, in or out of a professional environment.
These are also life skills
Denise's workshops offer hands-on practice. In addition she offers personal awareness techniques, and tips to integrate your intuitive understanding into whatever you do.  These are especially useful for healing pros. Additionally, they are useful wellness and self-awareness tools for everyone.
Become more aware of your own body and its messages.
Hold compassionate space for anyone. Especially those going through a rough time during a catharsis.
Perhaps most important: become comfortable using what you know are your healing gifts.  Above all, Denise's workshops can give you the missing piece(s) for full empowerment.
Workshop participants share what they liked best:
"…The change within my body. Feeling more relaxed and forgiving myself.  I love the idea of breathing in daily transitions!"
"…Your loving connections with each of us."
"…Learning from others in the class."  
"…How you helped everyone to feel comfortable and safe to open up."
"…Small group activities."
"…Your enthusiasm, Denise!"
"…Your ability to relate your knowledge to us."
"…Getting comfortable with a hands-on experience."
"…The rich learning environment – exchanging skills with other ins the class."